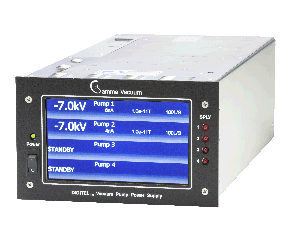 The DIGITEL family of Ion Pump controllers offers the right balance of performance, power and protection.
---
Digitel™ SPCe | Small Pump Controller
The SPCe is a versatile way to fully operate ion pumps 0.2 – 75 l/s. An LCD pressure/current/voltage display alongwith standard serial communications makes the SPCe able to accommodate the needs of basic and advanced users. Nano amp resolution provides gauging capabilities using the appropriate ion pump set-up.
---
Digitel™ LPCe | Large Pump Controller

Ion pumps 100 l/s and larger require higher currents for starting and higher pressure operation. The LPCe supplies higher currents to a dedicated single ion pump (or up to four ion pumps in parallel) and has an easy-to-read touchscreen LCD display that simultaneously displays pressure, current, and voltage. Standard serial communications and eight set-points allow for easy system integration. The LPCe fits into any rack at just 3U high and 1⁄2 rack wide.
---
Digitel™ MPCe | Multiple Pump Controller
Ion Pump Control
Incorporating the same features as the LPCe, the MPCe allows for high current control of two ion pumps independently or up to four in parallel. At 3U high and a full rack in width, the MPCe is ideal for operating a wide variety of ion pump configurations on any system.
---
TSP/NEG Control
A TSP or NEG can be fully operated from the LCD touchscreen of the MPCe. They can be fired manually or automatically based on the pressure of either ion pump the MPCe is monitoring. Timed modes also let the user have full control over exact parameters of operation. A single remote controller can operate up to eight TSP filaments or two NEG pumps.
---
View the product brochure to find out more.
Get a Quote.