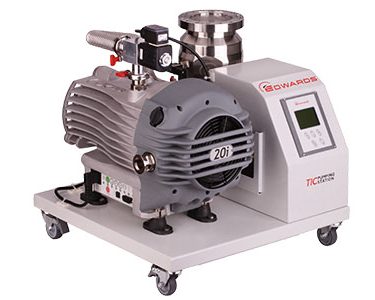 Edwards range of nEXT turbomolecular pumping stations has been developed to provide a comprehensive vacuum solution with the latest technological advances for easy installation and operation.
All Edwards turbomolecular pumping stations come a TIC turbo and instrument controller, enabling system start/stop from the control panel and easy integration of Edwards Active Gauges.
Configured to Your Needs:
Wide choice of turbomolecular and backing pumps

Fully Assembled:
No systemisation required
Simple Operation:
Intelligent and easy to use controls with serial communications

For pumping speeds from 47 l/s to 84 l/s we offer our trusted nEXT85H pump with a choice of various wet and dry backing pumps and a TIC100. For pumping speeds of 240l/s to 400l/s the new turbo pumping stations are based on our nEXT pumps offering the additional flexibility of end-user serviceability plus a choice of backing pumps and a Turbo and Instrument TIC200.
Oil-sealed pumps come with an EMF mist filter fitted as standard and nXDS dry scroll pumps have an isolation valve fitted between the turbo pump and backing pump as standard.
Read More

Applications

Accelerators
Analysis and surface physics
Beam lines
Electron beam welding
Load locks
High energy physics
Research & development
Surface science
UHV systems

Turbo Pumps

At Edwards we understand the need for our vacuum pumps to deliver exceptional performance for our customers, in some of the most demanding applications. With this in mind we have developed the nEXT technology to maximise performance and deliver a new experience in turbo pump.

Conventional turbo pump rotors are designed to deliver either high speed or high compression. To eliminate this compromise the blade arrangements on the nEXT rotor have been totally re-designed to optimise pump performance and achieve both higher speeds and higher compression.

The end result is an exceptional class leading performance for a pump of its size.

Pump Ranges:

nEXT85
nEXT 240 D or T
nEXT 300 D or T
nEXT 400 D or T

Backing Pumps

Our turbo pumping stations are available with a comprehensive range of backing pumps to meet your specific needs. Whether you are looking for low priced oil-sealed pumping options or totally dry systems we have the pump for you.


Why Choose an Edwards nXDS DRY Scroll Pump?
Change your vacuum experience with a new nXDS dry scroll pump, offering a unique oil-free, robust and reliable vacuum solution.

Quiet operation | Better work environment and low environmental impact
Intelligent and easy to use controls | Simple operation
Hermetically sealed for a lubricant free vacuum environment | No contamination and no oil to dispose
Long service interval and low power consumption | Low cost of ownership
Superior vapour handling | Quicker process


Why Choose an Edwards RV OIL-SEALED Pump?
Edwards RV series of vacuum pumps have become the industry standard with over 150,000 units sold. This success has been based on field proven design and reliability in a wide range of applications and environments.

High vapour handling | Quicker process
Superior particulate handling | High reliability
Fast acting, automatic inlet valve for best in class anti-suck back protection | Safe process and systems
Mode selector and two position gas ballast | Configured to meet your vacuum needs
Designed for easy maintenance | No unplanned downtime
Quiet running | Better work environment


Pump Ranges:

nXDS Dry Scroll Pump
E2M Oil Sealed Rotary Vane Pump
RV Oil Sealed Rotary Vane Pump
XDD Diaphragm Pump

Ordering Matrix
View the product brochure to find out more.
Get a Quote.